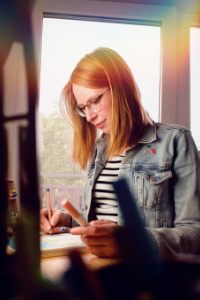 Growing up in beautiful Ostwestfalen-Lippe, Hanna discovered her love for crayons and all kinds of paints while still in elementary school. After successfully completing her studies in graphic and communication design at Bielefeld University of Applied Sciences, she gained valuable experience as a graphic designer in several advertising agencies. However, since she missed the creativity of illustration there, she has dedicated herself to the fascinating world of children's book illustration in recent years.

Her strength lies in creating cute, lovable characters and telling stories with them, while she likes to hide little surprises in her pictures. Her vision is to inspire children to appreciate the beauty of nature and all that it has to offer. She wants to make children's eyes shine and take the readers on an unforgettable adventurous journey.

She lives with her equally creative husband in Bielefeld.

click on image to enlarge
© Wundergarden 2014 - 2023