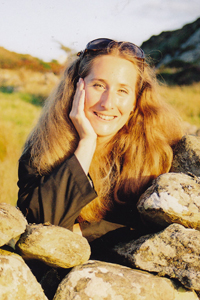 Being born and raised near Stuttgart, Julia found a second home on the west coast of Ireland and spent six of her college years there. Now she is back in Germany – with an Irish accent, a background in literature, publishing and translation, a PhD, a shelf full of sketchbooks and a head bursting with ideas.

As a literary translator, Julia is surrounded by words and books but enjoys wandering off to overgrown woods or secret gardens where she and her pencil dream up all sorts of creatures, scenes and stories. Her passion for nature studies, myths and the fantastical places in between influence both her art and illustration work.

In 2011 Julia completed the long-distance course "Illustrating Children's Books" by the London Art College. To hone her craft further and to benefit from an artistic environment, she is currently continuing her studies at the Freie Kunstschule Nürtingen, an independent art college, where she particularly enjoys the creative atmosphere and inspiring conversations with fellow artists.

Driven by her love of letters, lines and watercolours, she is working on translating words into images, while also developing her own story ideas further. Her dream is that, one day, she'll live by the sea again, get a dog while creating art with pencil, pen and paint brush all day.
click on image to enlarge
© Wundergarden 2014 - 2022